Quality Assurance
Exceeding Customers Expectations
New Zealand Tube Mills Quality Assurance
NZTM are proudly registered with the Telarc Agency after successfully demonstrating compliances to ISO 9001 : 2015 – Quality Management Systems and ISO 45001 : 2018 – Occupational Health and Safety management Systems .
As a result of rigorous quality procedures built into our engineering practises when working with large automotive OEM's, we have fully controlled manufacturing and business level procedures.
We build quality into our products at the design stage and have a comprehensive new product and new process introduction programme. We also believe that quality is owned by everyone from the person specifying the base materials all the way through to the person loading the vehicle ready for delivery to the customer.
We don't just talk quality assurance and fill in forms, we use use the system to measure our effectiveness and to push continuous improvement throughout our business. Quality assurance is the cornerstone of all we do.
Certifications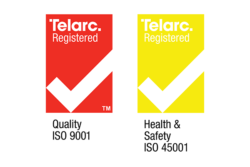 Click here to display ISO 9001 Quality Certification.
Click here to display ISO 45001 Health & Safety Certification.
Learn about ISO Standards here.
Learn about Telarc 9001 Standards here.
Metallurgical Capability
We have a fully equipped metallurgical facility on site. For each new product or change in process we examine the product strength and stability characteristics.
This includes destructive & non-destructive testing but will also require micro analysis of the weld and heat affected zone checking for integrity and grain condition.
We take regular samples to ensure our reproduceability, and ultimately the product you are purchasing is second to none.
We can supply reports to customer requirements by arrangement.
Complaints and Suggestions
Part of our quality system is a complaints and improvement procedure. If you feel you did not get the service or product you believed you were expecting please let us know and we will respond with our remedial action to ensure it doesn't happen again.
Just as importantly, if you see room for improvement or an opportunity for our business please let us know.
Contact us by telephone or click here to reach our quality department with your comments.
We will respond within 48 hours to let you know we have received your communication and our plan to rectify the issue.